Our factory is based in the heart of Chantaburi, well known for its tropical fruits especially mangosteen. Our orchard produces only organic mangosteen certified by the Ministry of Agriculture Thailand and are pesticide and chemical free. This is very important to us since we extract natural xanthones from the rind to produce our juice. Our juice is pure 100% mangosteen juice made without the use of preservatives, sugar or sweeteners. We do not mix with other juices or dilute with water. Being near the natural source, this ensures that our product maintains its freshness and contains all its vitamins. We use the best technology to produce our products and use Flash Sterillization in order to kill bacteria and spoilage micro-organisms, to make the product safer and extend its shelf life.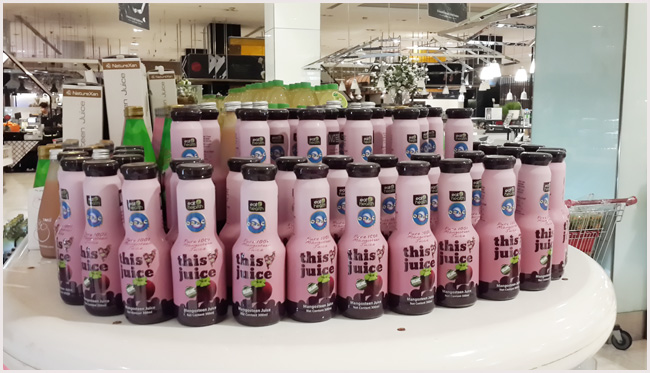 "this juice" pure mangosteen juice
this juice is pure 100 % mangosteen Juice, processed through Flash Sterillization, in a 300 ml glass bottle. Our product contains no sugar or sweeteners, no preservative and has no color added. Most mangosteen juice sold today is diluted with water and other fruit juices and may not contain many of these powerful xanthones but "this juice" is pure mangosteen juice or puree made from the whole mangosteen fruit consisting of the flesh, seed, and rind (pericarp) for your utmost health benefits.
Our product has been tested and certified by Brunswick Labs in the USA and passed all the International Standards such as HACCP, GMP, HALAL, Organic Thailand, and also FDA Thailand.

For centuries, here in Southeast Asia, the mangosteen is known as a "super fruit". It benefits the entire body. In juice form, it is easier for the body to absorb. Studies have found it especially effective in reducing inflammation, protecting the heart and preventing many different types of cancer. According to the American Cancer Society, laboratory studies have found mangosteen effective in slowing the growth of cancer cells. Preliminary research has indicated that mangosteen juice can help some ailments, such as fatigue, depression, pain, anxiety, diarrhea, diabetes and other problems.